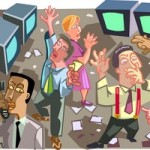 The Internet has made a lot of things much easier than they once were. Instead of loading up and going to the mall, we can shop online. Telecommuting, which was once virtually unheard of, is now pretty common. And while investing in stocks once required a trip to a brokerage, or at least a phone call, it's now possible to do it from the comfort of your own home. Here is some advice on the pros and cons of online investing.
The ability to trade online has attracted many investors who otherwise might not have gotten started. But there is a great deal of debate as to whether or not this is a good thing.
Pros
Online brokerages are essentially open 24 hours a day, 7 days a week. If an investor decides that he wants to make a trade at 3:00 in the morning, he can go online and put it in motion. The trade may not go through until the beginning of the business day, but the investor doesn't have to wait until then to make his request.
Trading through an online brokerage is cheaper than using an offline brokerage. On average, fees are about half as much as they would be if going through a traditional broker.
Most offline brokers require new investors to come to the office to set up their accounts. When going through an online brokerage, you can do it all online.
When working with an online brokerage, you can receive alerts about stocks you're watching. That's much more convenient than sitting and watching prices yourself.
Cons
When you invest online, you don't get to talk to an investment professional. For those who are experienced in investing, that might not be a problem. But for new investors, consulting with a professional could prevent them from making costly mistakes.
It's almost too easy to make trades online. Whereas traditional investment firms often put a limit on how much trading an investor can do, online firms have few restrictions. That makes it easy to gamble, which means it's easy to lose money if you're not careful.
When you trade online, you must transmit personal information such as your bank account number over the Internet. While investment firms take lots of precautions to ensure that your data remains safe, there's always a chance that it could be intercepted by a hacker or phisher.
Trading online is cheaper and easier than dealing with a traditional brokerage. But it's important to weigh the pros and cons before you begin. If you're an inexperienced trader, you might do better to stick with an offline brokerage until you learn more about it.
Tags: investing advice, online investing, stock trading