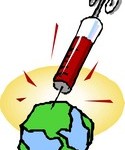 The government plan aims to stimulate employment, certain critical economic sectors, and U.S. consumer spending. It specifies $550 billion in spending on new projects and $275 billion in tax cuts. So what will you potentially get from the recent stimulus package? There are some income and other limits however most people could get a significant benefit.
Here are three things you can expect:
A lower mortgage rate. It used to be very difficult to refinance your home if you had less than a 20 percent equity ownership in your house. You may now be eligible for refinancing even if you owe over 105 percent of what your house is worth. In order to qualify you must have a loan balance of no more than $417,000 unless you live in a high cost area.
An incentive for a new car. If you buy a new car, SUV or a motorcycle in 2009, you may be eligible to deduct the state and local sales tax if you have an adjusted gross income of less than $260,000. With an average car sale of $25,000 and average sales tax of 6 percent, you could write off $1,500, plus any county or local sales tax.
A health insurance subsidy if you lose your job. Normally if you lose your job you are eligible for COBRA benefits, however you are responsible for footing the health insurance bill. Now the government will pay as much as 65 percent of your monthly premium for up to 9 months for most people who lost their job after September 1, 2008.
Tags: investing advice, stimulus plan