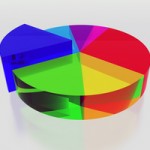 One of the most common struggles for any individual who is investing or saving for retirement or other long-term goals is coming up with an appropriate asset allocation. "Asset allocation" refers to how you have your various investment funds distributed among different investment types.
Asset allocation is often stated in terms of equity versus debt investments, large company versus small company (in the context of stock investments), investment-grade versus non-investment-grade (in the context of debt investments), and U.S. versus non-U.S. investments.
There are a number of different asset allocation analysis tools available online to help you understand your portfolio better. Are these tools worth using?
An Overview of Asset Allocation Analysis Tools. Asset allocation tools normally work by examining the contents of your portfolio. To the extent your portfolio includes mutual funds, quality tools will be able to look to the underlying holdings of the mutual fund to determine your asset allocation.
Check With Your Broker. If you maintain your investments in a brokerage account, then there's a good chance you already have a relatively powerful analysis tool available from your broker. If you can't locate any online analytical tools for your portfolio, call your broker's help desk to find out exactly what they offer. Your broker may offer the analytical service through a telephone or in-person consultation.
Consult With Other Brokers. By the same token, in an effort to gain your business, many brokerages offer the ability to provide an analysis of your current portfolio, even though you don't have an account with them. Normally you can do this by visiting the other broker online or at one of their physical locations. If you don't believe that the tools offered by your current broker are adequate, then this is certainly worth considering.
Analyze All Your Accounts Together. If you decide to use an asset allocation analyzer, it's important to provide tool with as much insight into your overall investment portfolio as possible. In other words, if you have multiple accounts – such as an investment account, multiple retirement accounts and a number of bank CDs – then it's important to provide all this information at one time. Otherwise, if you only analyze a single account, the tool might recommend you diversify in a certain direction, when in fact you already have that diversification in one of your other accounts.
Analyzers Only Provide Advice. To the extent that these asset allocation tools provide advice about ways you might consider adjusting your asset mix, it's important to remember that this advice should only be treated as general guidance. None of these tools are going to have a complete and accurate picture of your overall financial situation, so make sure to use the results you receive from an asset allocation analyzer in the context of your financial picture.
As with most financial tools, it's also a good idea to use at least a few different options and not rely too much on any single tool.
Tags: Asset Allocation, investing advice